Nowadays, we can observe the boom of business in the online world. If you too are thinking about how to get your business online, you are in the right place. In this article, we will discuss the available platform options on which you can build your eshop.
Many people use content management systems (CMS) to create their website, primarily these systems are used to manage the creation and customization of digital content. Under the term digital content, you can imagine not only texts, but also images, videos, documents, products, and other marketing materials. The main features of these systems are the customization of templates for your eshop, the availability of various already programmed extensions, or usability for web administrators. This means that if you have your eshop customised, for example, you will already be able to customise the content and products in it yourself.
Basic advantages of CMS for e-shops
Accessible to eshop of any size/volume – CMS are considered a good solution for e-shops of any size, as they are flexible, usable, and scalable for both small and large e-shops and allow owners to easily manage and track their content and products.
User friendly environment – content management systems are user-friendly programs that do not require any complex process for content optimization.
Quick integration – CMS also allows quick integration of content, but also connection with other business systems, so you can create a dynamic and automated e-shop that you can update as needed.
Access from anywhere – CMS interfaces are usually based on online usage, so anyone with access can access it from anywhere. Therefore, CMS is convenient for working remotely.
To help you navigate among the available solutions for creating an eshop, we have prepared an overview of the most used CMS platforms for e-shops in 2021.
platform
price
user interface
SEO
plugins
 scalability
Shopify
 

basic version from €24 per month (more complex from €250 per month)

extremely simple and easy to use

allows effective default SEO

not best

limited

Magento

Free Trial Expensive Templates

Medium

Excellent SEO Options

Lots of Valuable Options

Nice Ability to Increase the Number of Products with Existing Extensions

Woocommerce

free

It is simple and easy to use

nicely created for SEO

more than 35,000 plugins, it's unrivalled

flexibility

BigCommerce

more expensive (from €29 per month)

easy to use platform

high performance SEO

integration of third-party extensions

good

OpenCart

free

compared to other platforms is not the easiest

high-level SEO

offers more than 14,000 extensions and themes

weaker

PrestaShop

free

easy-to-use

advanced SEO options

it is not necessary to use additional extensions, but there are options for extensions

limited

Shoptet

basic version from €13 per month

clear and intuitive

good support for SEO optimization

few plugins, but carefully prepared, responsive and 100% functional

good
Shopify
Shopify is one of the most popular e-commerce platforms in the world. Shopify is a high-quality e-commerce platform that is suitable for businesses of all sizes, from small businesses to large enterprises. It offers users a wide range of features for marketing, payments, sales, customer engagement and other activities. In addition to this CMS being relatively easy to use, stores can also use the Shopify mobile app to manage their store from anywhere.
Source: shopify.com
Advantages:
Shopify provides users with a number of applications covering a wide range of aspects including marketing, accounting, inventory management, shipping and more. Easily customise your eshop using intuitive template settings. It also provides some beautiful, professional mobile-friendly themes.
Disadvantages:
The price of the basic version ranges from €24 per month, with more complex eshop solutions, the price can range around €250 per month. Phone support is only available for the US, UK, New Zealand, and Australia. One of the biggest downsides of this platform is that store owners are charged a fee whenever they use third-party payment gateways. Therefore, if a merchant plans to use third-party payment systems, he should be prepared to pay additional transaction fees.
Magento
Magento is considered one of the best e-commerce platforms in the world because it offers a wide range of customization options for small online stores and large businesses. It also provides users with many third-party integrations and excellent performance. In addition to the standard functionality of CMS solutions, Magento also offers merchants tools for catalogue management, marketing, and SEO.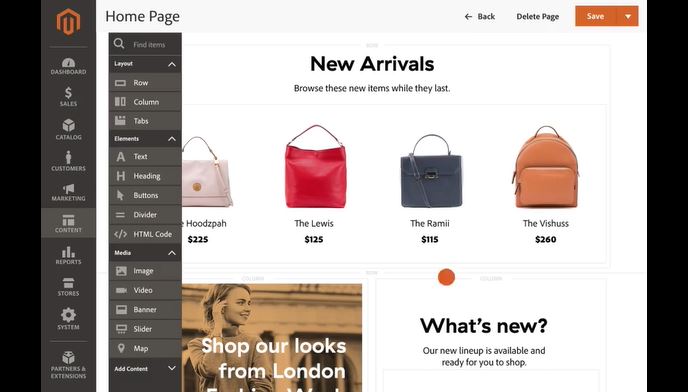 Source: magento.com
Advantages:
Magento is a powerful and feature-rich platform. It provides integration with B2B functionality, built-in themes that are responsive and optimised for SEO for any device, multi-channel marketing support, intelligent inventory management and order management. You can create an eshop in magento simply by using the "drag and drop" solution.
Disadvantages:
Despite all the advantages, if you choose Magento, you should know that installing this software is a much longer and more complex process compared to other solutions. Although Magento Open Source is free to download and use, all other things like development, themes, plugins, and hosting are paid.
Woocommerce
One of the best and most used platforms for eshops is Woocommerce. WooCommerce is a flexible open-source platform based on WordPress that provides online stores with many features and extensions, such as PayPal integration and one-click sales. WooCommerce CMS is also quite easy to use, so you will have no problem adapting the system to your needs when creating an eshop. The platform has attracted a large number of users because it provides many extensions and themes for free.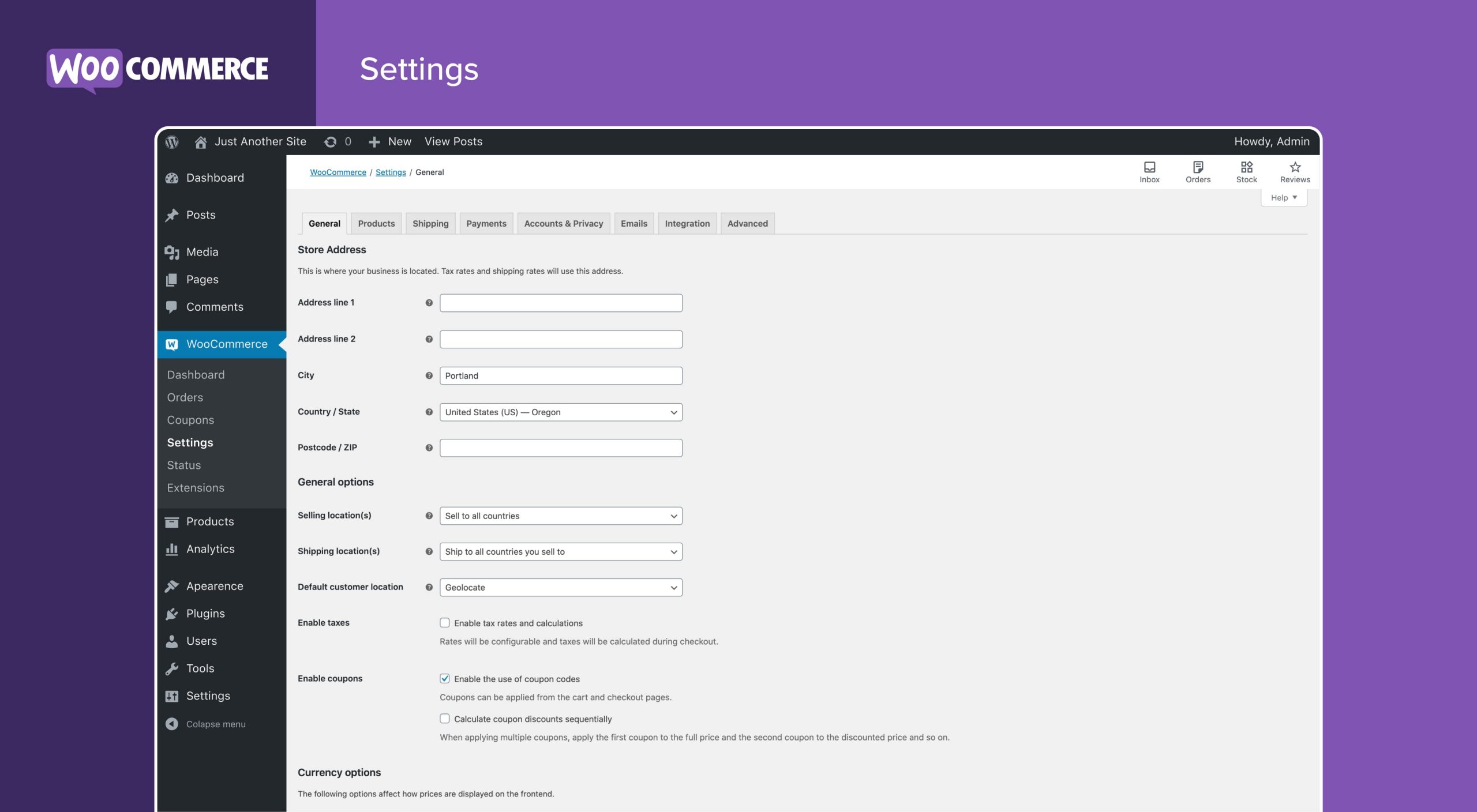 Source: woocommerce.com
Advantages:
WooCommerce is a free WordPress plugin. It provides easily customizable themes, unlimited products, many extensions and is SEO friendly. Easy order management with a modern and elegant interface. It provides easy store setup and flexible and secure payments.
Disadvantages:
The WooCommerce extension sometimes fails to adapt to frequent WordPress updates. To create a more complex system, you need a thorough knowledge of WordPress and WooCommerce.
BigCommerce
BigCommerce is a hosted platform that allows you to create and manage an online store. BigCommerce includes a wide range of valuable features that allow users to effectively sell products and even launch online stores. It also provides sellers with a number of customization options that allow them to change the design of the store to suit their business needs.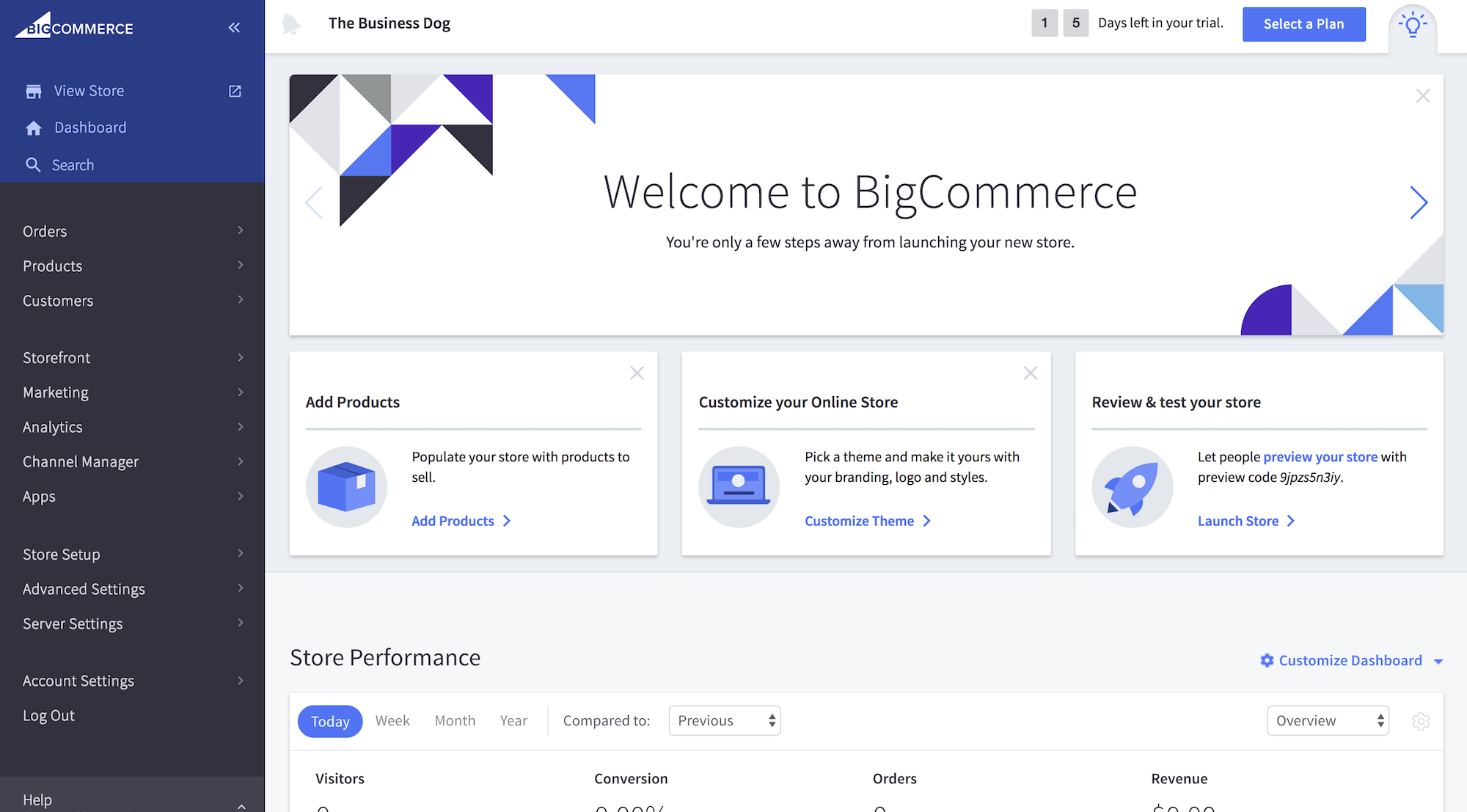 Source: bigcommerce.com
Advantages:
Easy checkout customization and an overall easy to use platform. Possible integration with WordPress. Customised selling in multiple currencies. It has good settings for SEO and organic search results.
Disadvantages:
BigCommerce pricing is a bit more expensive than other platforms. Annual online sales are limited. The standard BigCommerce package does not offer a rich set of themes and extensions.
OpenCart
OpenCart is a free open-source platform for small and large online stores. This platform has a fairly large community of contributors, so it is constantly evolving and improving. OpenCart offers more than 14,000 extensions and themes for e-businesses of any size. It also integrates with more than 20 payment gateways and more than eight modes of transport.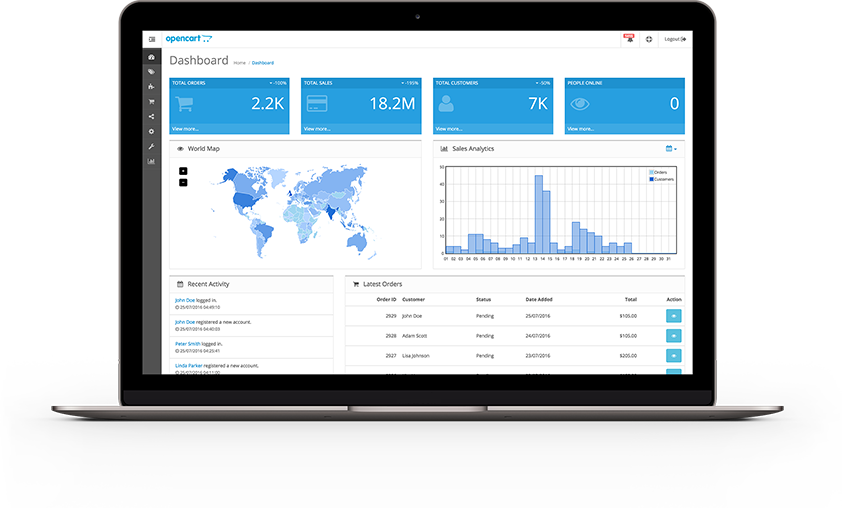 Source: opencart.com
Advantages:
The OpenCart platform is free. An ideal choice for clients who want specific shopping cart functions. It is flexible to work with different payment processors and payment gateways. It provides a complete overview of total orders, sales, customers, and sales analysis through the admin dashboard.
Disadvantages:
The platform is sometimes buggy and lacks security features. It is not an ideal choice for larger eshops. Even with an administrator, some developer skill is sometimes required. Compared to other platforms, it is not the easiest.
PrestaShop
Many businesses use PrestaShop because they don't have to pay any licence fees for developing and managing online stores. The platform is commonly used for installation and easy customization. You can determine the level of technical control. In addition to the built-in features of PrestaShop, business owners can extend the platform with plugins and themes. PrestaShop has all the necessary functions, so it is not necessary to use additional extensions. With the goal of developing world-class e-commerce software through open-source innovation, PrestaShop is the ideal platform to reach business success.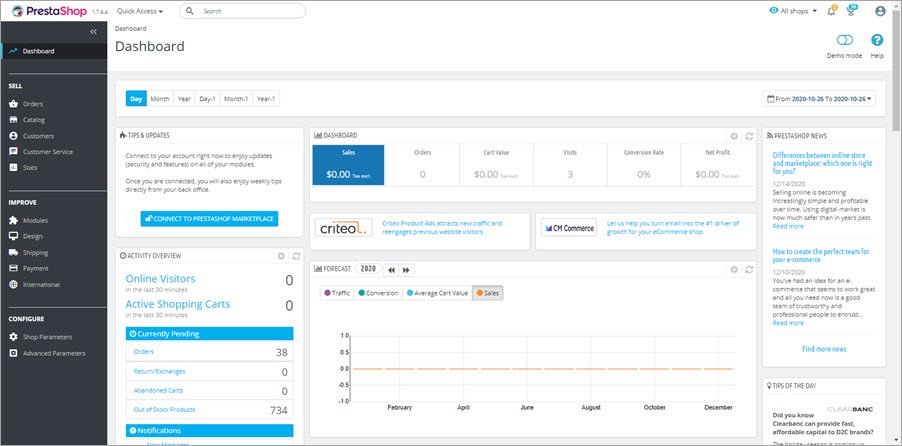 Source: prestashopmanager.com
Advantages:
It provides easy installation and configuration. Support secure and reliable payment gateways. You can create products and product packages in it with a nice menu and layout. It has easily customizable features.
Disadvantages:
PrestaShop is only suitable for small and medium-sized stores due to its limited scalability. It has no official support team. The design of PrestaShop is not ideal for large stores. Extensions can be a bit expensive.
Shoptet
Shoptet is a fully functional e-commerce software provided by Shoptet and is designed for small and large businesses. Shoptet was founded in 2009 in Prague, Czech Republic. Shoptet provides complete e-commerce solutions from inventory management to online payments. Shoptet offers advanced eCommerce features such as free hosting, unlimited sites, storage, free support, payment acceptance, free web-wide HTTP with SSL certificate, and real-time quotes.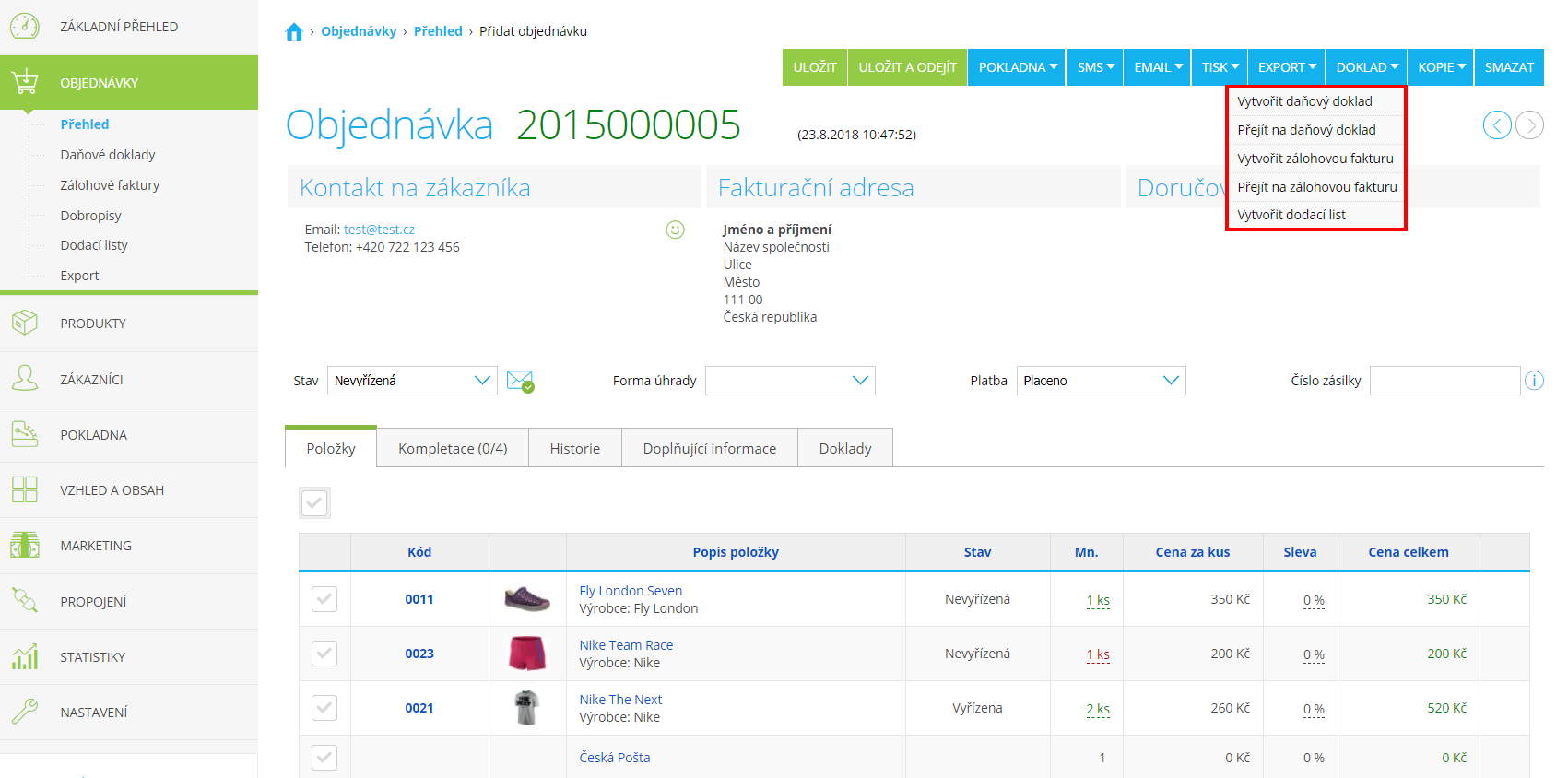 Source: shoptet.sk
Advantages:
Shoptet is an electronic store with a cash register system. You can automate several processes in the eshop. High-quality and clear administration that is intuitive and easy to work with. Possibilities of using plugins as well as custom codes. A good solution also for those who have brick-and-mortar stores and want to expand their business to the Internet.
Disadvantages:
It provides a small number of extensions. It does not support foreign payment gateways and provides only one payment gateway as well as only one accounting system. It can be more expensive for larger e-shops or e-shops that want to use more add-ons or extended functions. Limited functionality of lower packages. Since it offers its own hosting, data transfers are charged if the limit is exceeded, which can increase the costs of the e-shop.
We hope you have a clearer idea of what e-commerce solution you should choose for your online store. However, if you have any questions about it, feel free to contact us. We will be happy to give you advice.